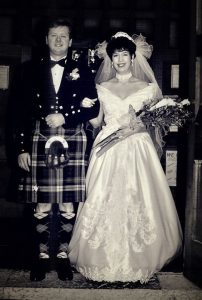 Not long after Andy and I were married I had joked that for our 25th wedding anniversary we should go to Las Vegas and get remarried by Elvis in a little chapel. As the years passed that was always the plan. Well, as the time came closer to plan our actual trip the plan changed. We than started talking about Italy as it's always been a dream to travel there and when I say travel I mean eat amazing food and drink great wine lol. Finally we settled on riding around Lake Superior. This might not seem very romantic to most but we would be doing the things that make us happy;
Being together – no matter where that together is
Riding
Eating good food
Riding
Traveling
I've said many times – anybody can look like a rockstar when doing or giving the big things but it's when your partner rocks the little things that you know you've got yourself a good one!
Not that I'm saying our trip was a little thing because it wasn't. It was 2 weeks and a little over 6,000 km on motorcycles. The little things were Andy ordering me this little wind deflector thing because my windscreen wasn't quite tall enough, adding mini boards so my feet didn't cramp from being on my pegs and also cleaning bugs off my headlight and windscreen. Now before you go all "you can do all the shit on your own" yes I can but it's nice that he just does it for me because he wants to.
Ok back to the road trip! I recently saw a post about P!nk and Carey Heart taking a ride for their 14th wedding anniversary and how low key they celebrated and I was all like "look Andy we're just like P!nk and Carey" lol!
While we were away we were reminded that we are not stop and see all the things kind of people we are looks see kind of people. What exactly are look see kind of people – well as we rode by we would say "look see"! It really is that easy. We will do this ride again and we will enjoy it all over again but no other bike trip will be as special as this one. It was our first big bike trip and showed us that we can completely do this, it showed us that we are ok being on our own and still really like spending time together, and mostly as our lives look very different from what we envisioned 25 years ago – we are more than ok.
When we started riding again 5 years ago we would often joke about the fact that it was like dating all over again. We would pick fun places to ride to, we would have picnics, and we had great conversations along the way.

I don't know a lot of things but I do know that motorcycles are good for a marriage. Well, our marriage anyway!
** as an added note – going for a ride or motorcycle trip for your anniversary isn't low key – it's AWESOME!
I grew up in small town Ontario so of course there were a couple of motorcycles in the drive house. The only problem was that I didn't ride them I was only a passenger.
It wasn't until I met me husband, Andy, that I spent any real time on a bike. We had a bike (Yamaha XJ750) before the kids arrived. However, after the kids came along we just didn't have time to ride anymore so we sold it. There's nothing worse than a bike sitting around and not being ridden!
Fast forward twenty years and we were once again cruising around on two wheels. Almost five years later and the only thing that's changed is I now ride my own bike. If only I had understood how awesome it was to ride my own bike I would have done this years ago.
Cheers,
CL