All so often when we talk about hitting the open road its destinations, routes, fuel (bike and belly) that hogs the conversation. The little things often get left out and forgotten. However, what happens when you neglect the little things? Say it with me people – THEY BECOME THE BIG THINGS! So this weeks crush & covet is all about protection from the elements.
Crush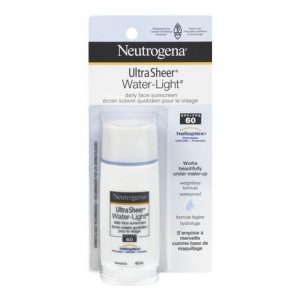 Andy –NEUTROGENA® Ultra Sheer® Water-Light® Daily Face Sunscreen Lotion – SPF 60 – $14.27
My skin is a result of many generations of pale people living where the sun was often obscured by clouds and it rained. A lot. This is why my melatonin lacking epidermis needs a little help to stay moisturized and protected from the sun.  As a rule, I don't like creams and lotions. I'm not a fan of any scented products. They feel greasy on my hands and somehow always seems to get in my eyes.  So I stay covered up and in the shade when possible. When I can't, like when I'm riding, I need to put something on my face to protect it. On a recommendation, I tried this product from Neutrogena.
I like this product because it doesn't leave me with a greasy feel on my hands. The oil free composition seems to absorb into the skin and feel like it's hardly there.  It provides SPF 60 and works well on my sensitive face. It comes in a small squeeze type bottle that does not leak in my saddle bags.
This addition to a man's riding kit is a smart one. Dry skin is not pretty and skin cancer is no joke. I like this product but if you find one you like better, go for it. Just please, put something on before you ride into the sunrise.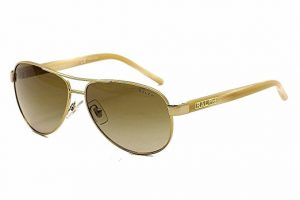 Cherie-Lynn – RALPH BY RALPH LAUREN SUNGLASSES RA4004 – $154.95 CDN 
I'm a bit of a stickler when it comes to wearing sunglasses to protect my eyes from UV rays but I was really tired of having to wear contacts all the time as well. So I decided I was going to invest in a pair of prescription sunglasses. The last pair I bought was four prescriptions and 14 years ago. I still own those glasses and would occasionally wear them so I knew it was time to get a new pair. I'll be honest the glasses I bought weren't my first choice for my fancy new sunglasses. I had originally purchased a nice pair of Oakley's but when I found out that it was going to cost me an extra $600 (prescription + progressives + polarized lenses) to get my prescription put in I returned them pretty damn promptly. These Ralph Lauren ones are the same style I had bought but the arms were a bit different and it cost me $450 total for the frames,prescription, progressives and polarized lenses. After all, I like wearing my glasses when I'm patio sitting and I need to be able to read menus hence adding the progressive part 🙂  The one adjustment they did make was adjusting the transition line down as they knew I wouldn't need it in the regular spot and they work beautifully. They also sent me home with the regular lenses just incase I ever want to switch them back to non-prescription glasses.
After having them for a year they are still in great shape even with putting them in and out of my helmet. The only thing I think the Oakley's have over these are their arms. The Oakley's arms were thinner and more pliable so wouldn't have pressed on the side of my head as much. It's not that these are horrible but after 1.5 hours with my helmet on I feel it.
Covet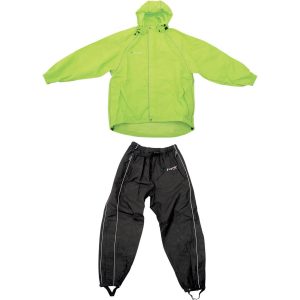 Andy & Cherie-Lynn – Frogg Toggs Cruisin Toggs Two-Piece Rain Suit
– $97.99 CDN
Up to this point we've been lucky and haven't had to ride in much rain. We have rain some rain suits now that but they're suits that my sister gave to us from her and my brother-in-laws fishing trip in Newfoundland (and we are very thankful that they passed them on to us as they've come in hella handy)and now that we are looking at doing some long trips we need something that;
doesn't take up as much space when not being used
are better suited for riding bikes not fishing boats
quick dry
breathable but still waterproof
we really want them to be hi-viz.
The Frogg Toggs seem to cover all the wants beautifully and the price is very reasonable. Every time we've gone to buy rain gear something else has caught our eye but we know it's time. It's like when you're doing a reno- we all want to spend the money on the pretty stuff never the plumbing and wiring but yet we all know the plumbing and wiring is the important part. That's kinda how we look at our rain gear purchase.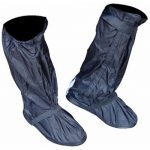 And seeing as we are getting the rain suits we'll likely add some boot covers (Gears Ripple Rubber Sole Rain Boot Covers $28.95) as well. If you've ever had wet shoes or boots you know how long they take to dry and doing anything in wet footwear has to be one of the most uncomfortable things one does. So if we can prevent that at all we will.
ps if you don't want to miss anything add your email to the Subscribe to Blog in the sidebar. We promise we will never giveaway your email – we will in-fact do everything humanly possible to protect it!
SaveSave
SaveSave
SaveSave
SaveSave
SaveSave
SaveSave
SaveSave
SaveSave
SaveSave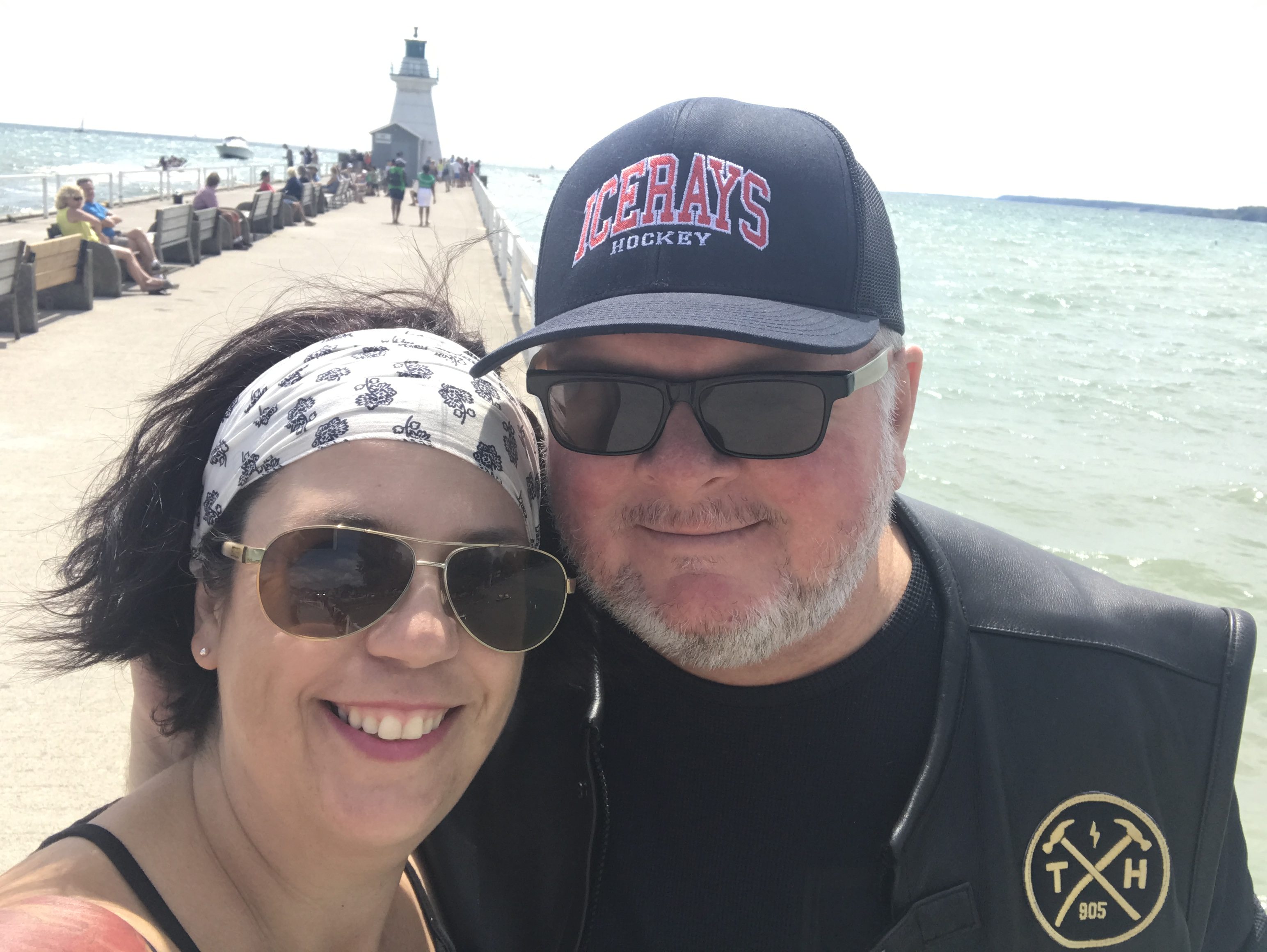 When we got back into riding 5 years ago our mechanic (hey Bryan) told Andy to take me (Cherie-Lynn) places I wanted to go because if I liked riding the bike he'd get to ride more. We didn't realize just how true that was.  Once we started our adventures it was like we started dating all over again.
After 25 years we still love spending as much time together as possible. There's always lots of laughter, good conversation, a few smooches thrown in for good measure.
Scenic routes, good food, picnics, sunset rides and new adventures – life is good!