We are as anxious as anybody for the 2018 riding season to start. So while we're waiting we thought it would be a great time to broach the subject of what happens if you're in an accident. I know it's not what anyone likes to talk about however, we think it's important to have good information as well as some sort of plan.
Andy and I know what we like to carry and where but I thought I would reach out to some First Responders and get a better understanding. I spoke with the Hamilton Paramedic Service, an Ottawa Fire Fighter as well as the O.P.P – Highway Safety Division. This is what I found out:
their main focus is on stabilizing the patient
paramedic will only check for medical info on your body so carry it on your being not on your bike.
medical alert jewelry is what is searched for first
having your health card number on you is the best information to carry
having your blood type and allergies listed is also a benefit.
police and hospital will go through phones and wallets (sometimes they arrive after the patient)
phones usually get smashed so that's not the best place to carry information
Nobody is calling your I.C.E contacts from the scene of an accident
My first two solutions are both Canadian options so there are no additional shipping and custom charges. Yay! Mabel's Labels are made in Hamilton and The Medical Data Carrier is made in Ottawa. You know how I like to support my local companies so these options fit us perfectly.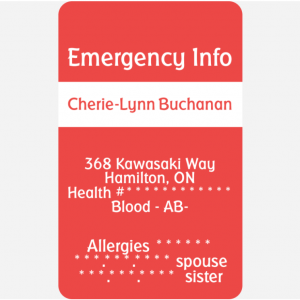 After speaking to the First Responders I've decided that the first thing that I'm going to order is Mabel's Labels Custom Medical Labels. These are labeled as kids medical labels but I feel they'll do exactly what I want them to do. I've used Mabel's Labels for years and know how good the glue is so I'm planning on putting them on the inside breast area of my coat. The labels are specially designed to adhere to textile and fabric and they will stay where you put them. I also love that they're red so they will catch the attention of the paramedic.
Kids' Medical Labels are waterproof, durable labels with maximum space to list medical conditions and concerns. These eye catching labels are ideal for lunch containers, lunch bags, notebooks, travel gear and just about anywhere a medical alert is needed. Customize your Medical Labels with medical concern, name, details of the concern and contact information.
I reached out to Mabel's Labels and told them about my post and they graciously have offered a set of labels to one lucky winner. Huge thanks Mabel's Labels!
The Canada Safety announced in February of 2017 that all participants at their Canada-wide motorcycle rider training programs will get a custom lifesaving Medical Data Carrier for their helmets.When I did my bike course last summer at the conclusion of the course we were all given a Medical Data Carrier for our helmet and after hearing and reading about the program I ordered 4 more – one for each of our helmets and a spare. I love that the case is fluorescent yellow so it catches your eye. Sometimes people passing by are on scene before EMT, these carriers have a warning not to remove the helmet. The majority of people understand what the consequence could be but again when you're in a situation sometimes logic is easily forgotten.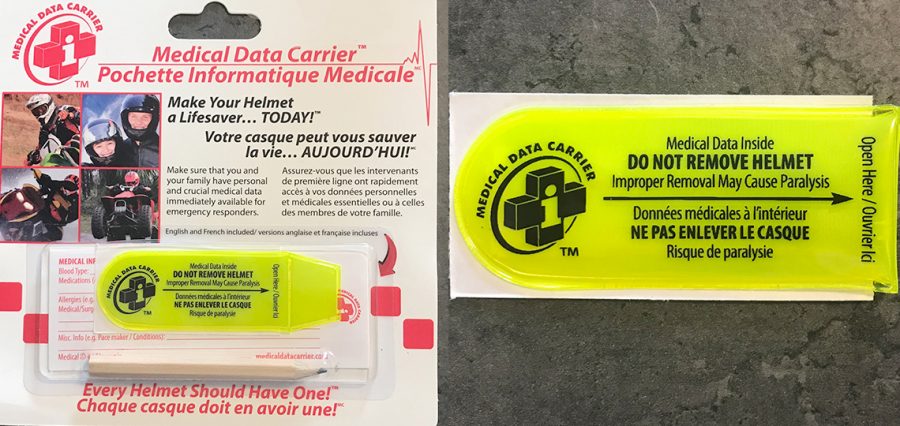 The Medical Data Carrier is always attached to the left side of the motorcycle helmet. Information as to the rider's identity and medical history including such things as allergies, medications, blood type and pre-existing medical conditions will assist trained first responders to expedite the crucial triage stage of an injured motorcyclist's care. A warning on the outside of the carrier, written in bold, warns Good Samaritan responders to leave helmet removal to those trained in the proper technique. Improper removal can result in collateral injury, paralysis or worse. – Medical Data Carrier Website Information
Road iD is a product I hadn't heard about until recently and seems to be much more common with my US riding friends. It is a US company so those of us North of the border would need to pay extra for shipping 🙁  Road iD offer numerous bracelets and necklaces – dog tag and a bar style. If you wear a watch you can purchase just the identification piece and add it onto your existing watch band. For me, some of the bracelets and bar necklace look more like nice jewelry so I'd be afraid of it being missed as ID. In this situation I want something that will stand out and be noticed so I would likely order the red cloth band.

My biggest hope is that anybody reading this won't need to rely on these tools but I also am happy they exist.
As always, ride safe my friends.
SaveSave
SaveSave
SaveSave
SaveSaveSaveSave
SaveSave
SaveSave
SaveSave
SaveSave
I grew up in small town Ontario so of course there were a couple of motorcycles in the drive house. The only problem was that I didn't ride them I was only a passenger.
It wasn't until I met my husband, Andy, that I spent any real time on a bike. We had a bike (Yamaha XJ750) before the kids arrived. However, after the kids came along we just didn't have time to ride anymore so we sold it. There's nothing worse than a bike sitting and not being ridden!
Fast forward twenty years and we were once again cruising around on two wheels. Almost five years later and the only thing that's changed is I now ride my own bike. If only I had understood how awesome it was to ride my own bike I would have done this years ago.
Cheers,
CL