I always have liked things that were a little different.  I gravitated towards the weird looking dog at the pound when our family went to look for a pet, I hung out with an eclectic group of people growing up (maybe that wasn't entirely my choice but more of a mutual decision), and I liked possessing things that were not usual, even if they were not valued by the rest of my peers.  When I first saw the Moto Guzzi California 1400 Touring, I instantly developed a liking for it.  It has a no-nonsense muscularity that hearkens to strength developed through hard labour and not scientifically designed body building exercise in a gym.  It looked to be capable without flash, confidence without arrogance.  The hard bags, comfortable seating position, powerful engine, modern electronics and basic wind shield checked all my boxes.  But still, I did not consider it a contender for my next bike.  While I thought the showroom price was reasonable (a little less than the comparable Indian Chief Vintage/Springfield), the thought of an Italian motorcycle with a limited dealer/service availability sent my risk averse and cheapskate soul skittering.  It was as though I was back in grade 10 staring at posters of exotic foreign cars that never appeared on the streets of my Northern Ontario home town.  
When I saw the same bike listed for sale as a 2014 used bike at a local HD dealership I went to see it and I started to consider my objections and deal with them one by one.
Cost to buy:  As I said before, a comparable Indian Chief Vintage (a bike I also adored) was more $ as a new bike and far more expensive as a used bike (if you could even find one, they are currently holding their value quite well).  So as a used bike, buying from a dealership (so it has been certified and inspected) it is definitely good value for money.
Cost to maintain:  With only 2 licensed service sites within 60 km of home (Guelph and Vaughn), I have little hope of repairs on the cheap.  However, I have a similar problem with Indian (Oakville and Barrie).  Except for the Big Japanese manufacturers with local dealers, I would have to travel a bit. Hourly shop costs: MG-$105 in Vaughn – which seems comparable to dealership rates for new bikes.  I try to do regular maintenance myself (oil and filter changes, minor repairs).  
Reliability: This has been hard to get a handle on.  Italian bikes have a reputation for needing constant attention and leaving riders stranded.  However, as I have looked into the newer bikes, this is not raised as an issue nearly as much for the newer bikes as it is for the vintage bikes.  I consider myself easy on my bikes and will treat this one like a queen in the hopes that it will be well behaved and reliable in return.
Parts: Very little stocked in Canada but ordering from Europe or the US seems to offer little obstacles (other than the wait).  Cost for parts does seem more expensive for some things (top case: >$2000) and less for other (rear rotor <$50).  So I am only really concerned if I need some major pieces and I have reconciled myself to the fact that some things will be more expensive when the time comes.
Meanwhile, I have a few leads on unofficial local Guzzi experts and I have changed my own oil/filter without unexpected complications.  So far, so good.
I'll let you know at the end of the season what else, if anything, comes up!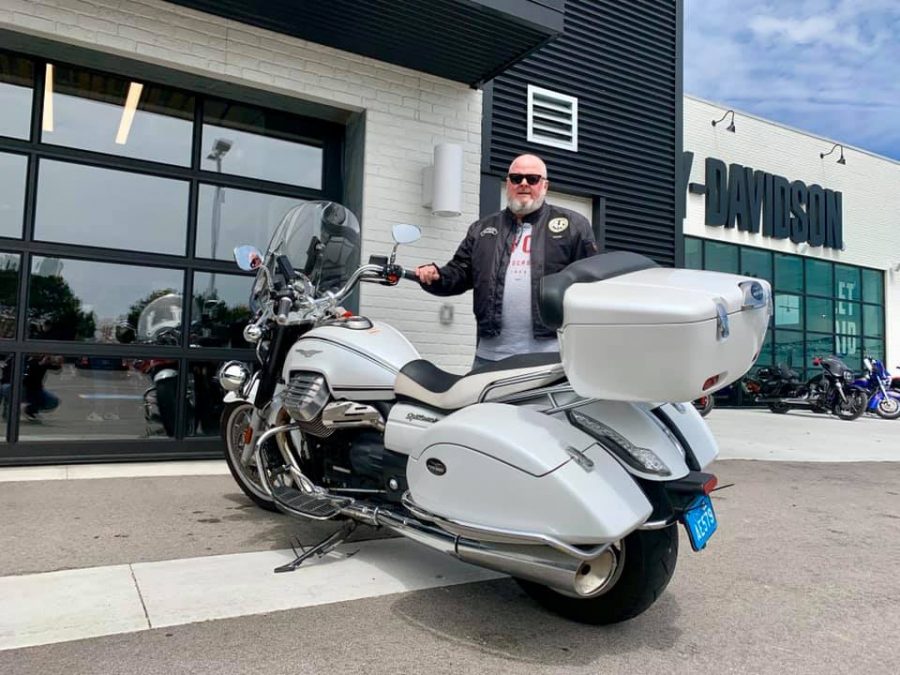 Growing up in Northern Ontario (Sudbury and Timmins), I spent a lot of time outdoors, snowmobiling in the winter and cottage life in the summer. I got my first motorcycle (1978 Kawasaki KZ200) when I was at the U of W for Systems Design Engineering. Within a year I picked up an '84 Yamaha Maxim 650 so that going on highway 69 wasn't so terrifying. Before long, I picked up a Yamaha XJ750. Marriage, kids and several moves for work took me off of 2 wheels for several years. About 5 years ago, I picked up a much abused 86 Kawasaki Concours (ZG1000), I fixed it up for me and Cherie-Lynn and we haven't looked back. Riding two up and exploring Ontario has just increased our love of riding. Now that Cherie-Lynn has started riding her own bike, I have moved onto a '14 Moto Guzzi California  for our new adventures.
Cheers,
Andy