Let me start out by saying –  buy the damn helmet because it's that amazing!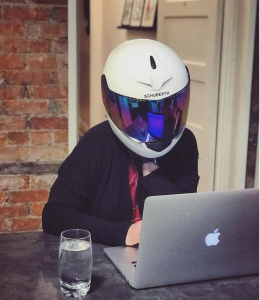 After wearing this helmet for only a week Andy made a flip comment that I will never ever be able to go back to any other helmet and if it wasn't true it would have been funny. As you know we ride a lot so the fact that so much research went into the weight as well as acoustics was a huge draw for me. The research was not wasted because this helmet is unbelievably quiet and light. Not once have I had any neck or shoulder pain for the weight – I can not say this about other helmet that I have wore. One other thing that I truly love about this helmet is how reflective it is making it very visible for night time riding. I'm not lying when I say you will want to wear this helmet constantly!
Although the helmet does accommodate it's own communication unit I did not purchase it or use it. That being said, I can't imagine that it wouldn't be amazing because everything with this helmet is AMAZING!
Like other helmets this one comes with an internal sun visor and clear outer visor. Unlike a lot of other helmets the outer visor comes with a pinlock visor. Which you guessed it – IS AMZING! Nothing can make me grumpier than having my visor fog up so yeah a pinlock system is pretty cool. As you can tell from my photo I choose an iridium visor because hello – IT AMAZING! Yes us riders are all about the safety but don't let anyone tell you that we also don't want to look cool because we completely do. The other thing that makes me grumpy is being hot so the fact that is helmet is a modular it's a life saver.
You will  get people that say all helmets are made the same and high cost helmets aren't worth it. Well to that I say bullshit. If you think all helmets are made the same you really need to go try on a premium helmet. From the minute you put it on you will know the difference. This helmet is worth every damn penny. The amount of research that went into making this helmet is mind blowing (you can read all about it in Schuberth's site). I have a brother that lives with a sever head injury so I completely get the importance of protecting your head/brain – after all we only get one so I'm taking care of it.
I get asked what makes this a women's helmet. So here it is;
Optimized for smaller head shapes
takes into account the particular female face shape
higher positioned padding in the cheekbone area
more padding in the in the area of the cheeks
the lining is also easy clean for those of us that like to wear makeup while we ride.
he outter shell is the same as a regular 3C Pro and it is just the lining design that turns this helmet into the C3W Pro.
This helmet is safe, quiet, light and downright sexy!
Name: Schubert 3C Pro Women's Helmet
Review : 
I grew up in small town Ontario so of course there were a couple of motorcycles in the drive house. The only problem was that I didn't ride them I was only a passenger.
It wasn't until I met me husband, Andy, that I spent any real time on a bike. We had a bike (Yamaha XJ750) before the kids arrived. However, after the kids came along we just didn't have time to ride anymore so we sold it. There's nothing worse than a bike sitting around and not being ridden!
Fast forward twenty years and we were once again cruising around on two wheels. Almost five years later and the only thing that's changed is I now ride my own bike. If only I had understood how awesome it was to ride my own bike I would have done this years ago.
Cheers,
CL