We women want better clothing choices. Clothes that are made for women!
As you all know I started riding my own bike this summer and what I have quickly figured out is what I need clothing wise is very different. What I have also learnt is finding nice riding clothes is very very hard. The majority of what is out there for us is something that guys want to see their woman in while riding on the back of their bike! Now I'm with the rest of you – I too like a little bling every now an then but I want choices – like the men have. 
Listen up motorcycle companies. Women riders are a very fast growing demographic in the moto world. Of those women, the majority are over 40. Consumer reports show that Baby Boomers (over 55) have the most disposable income but here's the kicker – they are the least marketed to. How stupid is that! The other market that is big is millennial. The difference here is although they don't have as much money to spend they are willing to spend it on quality items. They don't want to fill landfills with shit so will pay 3-4X the amount if it will last them a long time, think pay per use.
Do you know how hard I've had to look for my clothing this season? Let's just say it hasn't been easy! Talking with other women we are pretty decided that we want things that are a bit fitted, good quality, made specifically for women (the majority of us have curves), and in our size. This shouldn't be that hard but for some reason it is. The fact that I wear a large but have to buy and 3XL is fucking ridiculous. Now imagine those women that truly wear a 3XL- what the hell are they suppose to do? On behalf of women riders everywhere please
give us some decent choices, we beg you! 
Motorcycling has changed a lot over the years and it's time that some of these motorcycle clothing companies catch up with the real world! Yes I know that I'm new here and seemed to have a lot to say but come on help a lady out!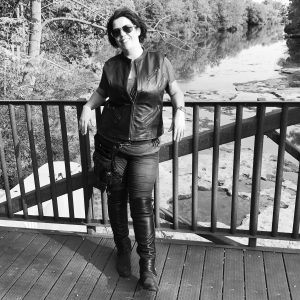 Here's a great article written three years ago about the lack of gear for females and sadly still nothing has changed. Also something that I don't say often – read the comments.
What (motorcycle gear) do women want?
SaveSave
SaveSave
SaveSave
SaveSave
I grew up in small town Ontario so of course there were a couple of motorcycles in the drive house. The only problem was that I didn't ride them I was only a passenger.
It wasn't until I met my husband, Andy, that I spent any real time on a bike. We had a bike (Yamaha XJ750) before the kids arrived. However, after the kids came along we just didn't have time to ride anymore so we sold it. There's nothing worse than a bike sitting and not being ridden!
Fast forward twenty years and we were once again cruising around on two wheels. Almost five years later and the only thing that's changed is I now ride my own bike. If only I had understood how awesome it was to ride my own bike I would have done this years ago.
Cheers,
CL