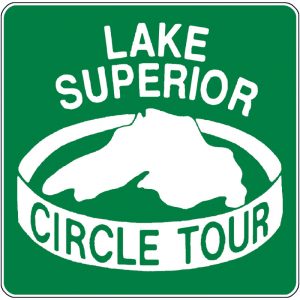 This is a little late getting on the blog but hey, better late than never and right now we all have a little extra time on our hands. Andy's still working at home – his office is now in our dining room. Outside of work we've been keeping ourselves busy by cleaning, purging the house, cooking, baking, eating all the cooking and baking lol and working on the bikes. We hope that you, your friends and family are all safe.
Last winter we spent a bunch of time planning a trip around Lake Superior. It was our first time doing a long trip so we wanted to take our time, do some reading from other riders and plan accordingly. We loved our trip but that being said, we learned some things and will plan differently for this summers trip – if we end up going. We've already cut off the US portion and now are contemplating just putting off the whole thing on hold until next summer with everything that is happening.
Our process was this:
How many kilometres do we want to ride each day?
Are there any friends/family that we plan to stop and see?
Are there things we wanted to stop for or detour too
Decide if and where we wanted to spend any extra days.

We picked Thunder Bay and stayed an extra night. 

Book hotels after figuring out these four factors.

I know lots of people say don't book hotels before hand because it ties you to a schedule. I'm the type of person that wants to show up and know where I'm sleeping. I don't want to drive up and down the road looking for a place especially if I'm tired. This route is a very popular one therefore, no vacancies happen more often than not as there are a lot of small towns.
We like to get up and get going in the morning so booking hotels that had Continental breakfasts would be a bonus, Andy will tell you that once I get going I really don't like a lot of starting and stopping. Our plan was to be at our destinations before dusk so we could enjoy a nice dinner and go for a walk. Seeing as we would be traveling with a small cooler and ice packs we also planned to hit a grocery store in the evening to get provisions for our lunch the next day. 
What we learnt:
Hotels

Don't always book the cheapest accommodations.
Look around the area and make sure that you can walk to restaurants etc.

As we found out that once you've ridden all day the last thing you want is to get back on the bikes to go for dinner. Yes we could have taken an Uber or taxi but again after being on the bikes all day it feels really good to stretch your legs and walk.

The majority of hotels that we stayed at let us park under the awnings or would direct us to where the bikes would be in full view of their camera's and under the lights.
We preferred hotels that offered a continental breakfast.
Half way through our trip we booked a hotel with laundry facilities and don't forget to pack a container with soap and dryer sheets.

Attractions and scenic stops

We are "not stop and see all the things" kind of people. We are "look see" people – as we rode past we would say "look see" lol
There were areas that we drove through that we know will be destinations to be built around for our return trip

Whitefish Point

Where the wreck of the Edmund Fitzgerald happened and there's a museum

Grand Marais
Houghton

We rode out to Copper Harbour and loved the ride but staying there really was expensive and there wasn't a lot that really interested us there beside the roads lol. Houghton seemed like a really great area with good restaurants. That being said the city is built on big hill so there that factor if you're not a fan of stopping and starting on hills.

Bayfield

It was just really really pretty. It's a big tourist and resort area with quaint restaurants and shops and pretty views.

Gas

If you are going to be traveling in a remote area know where the gas stations are and if you need to bring a small can with you.

Between Wawa and Sault Ste. Marie there aren't gas stations so fill up before you leave Wawa, 227km!

Packing

Pack what you think you you'll need and then remove at least 1/2!

You can always buy t-shirts, underwear and socks on the road if you need to.
If you are the type that likes souvenir t-shirts, buy them and wear them – don't pack'em. 
Andy bought too many tools and we both packed too many clothes. We really only needed one pair of riding pants because we were doing laundry every few days. 
I love spreadsheets so of course I created a workbook to keep track of our planing. Inside the workbook I had the following spreadsheets;
Itinerary

columns for Date, From, To, KM's, Notes

Reservations

columns for Name, Date, Time, Phone/Email, Address, Confirmation Number, Days, Cost

Budget
Trip days broke down to 4 days per spreadsheet

each day had sights to see, roads to ride and must stops/sees

Packing List
Pictures of our licenses, insurance – bike and extended health cards and contact tubers for our insurance company, credit card company and bank. 
Other Recourses I used to plan were;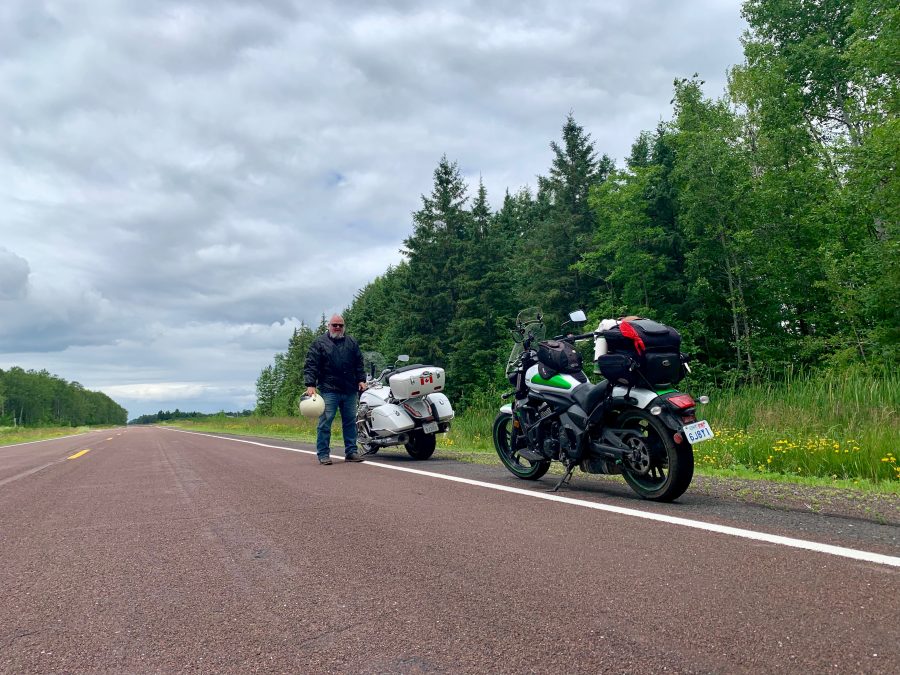 Don't forget to subscribe to the blog, you don't want to miss part 2 of the adventure!
I grew up in small town Ontario so of course there were a couple of motorcycles in the drive house. The only problem was that I didn't ride them I was only a passenger.
It wasn't until I met me husband, Andy, that I spent any real time on a bike. We had a bike (Yamaha XJ750) before the kids arrived. However, after the kids came along we just didn't have time to ride anymore so we sold it. There's nothing worse than a bike sitting around and not being ridden!
Fast forward twenty years and we were once again cruising around on two wheels. Almost five years later and the only thing that's changed is I now ride my own bike. If only I had understood how awesome it was to ride my own bike I would have done this years ago.
Cheers,
CL