Wasn't that a party – Burrbilly Girls Weekend 2018!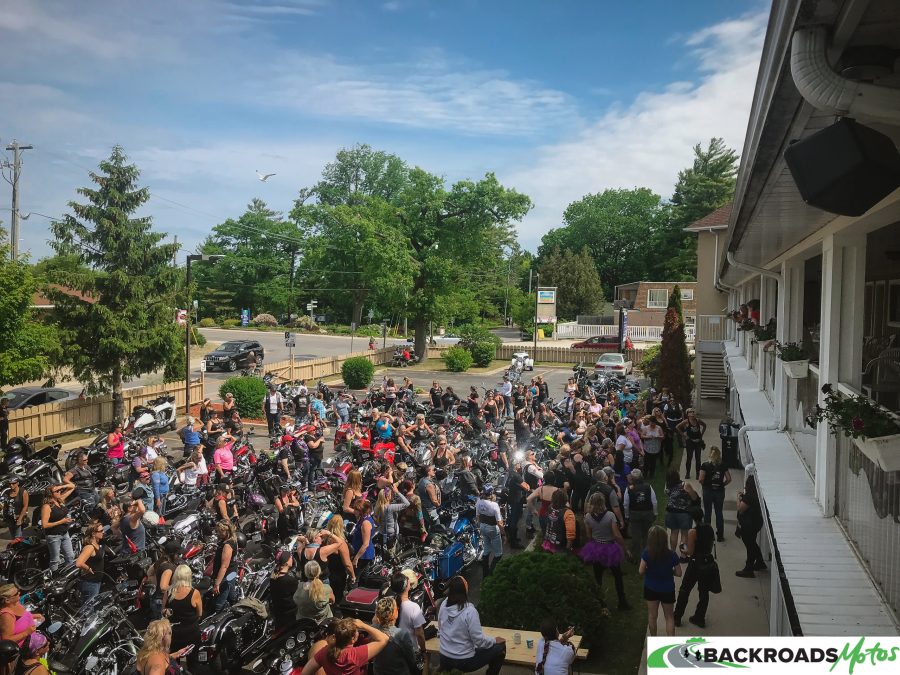 This past weekend I had the chance to gather in Wasaga Beach with roughly 300 other female riders. There were riders from all over Ontario, a handful from Quebec as well as some from the US.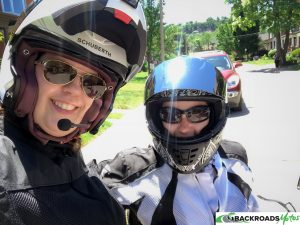 Once my friend Shelley and I confirmed we were attending, in the fall, we knew we wanted to go up a day early and just spend Friday hanging out and seeing others as they arrived into town. Shelley met me at my place and we headed out of town around 1ish. Seeing as it was only the two of us we went at our own pace. Our first stop was Tim's in Caledon for a quick bite and a coffee. We were both pretty eager to get to Wasaga Beach as we were excited but all of a sudden there were some blustery winds coming up so on we went. After arriving and checking in to our hotel (The Albatross Motel) we chatted about our last leg of the ride – although pretty the winds on the big hills were not fun at all.
We were thrilled to find out that some of our Ottawa Windsisters were also arriving early. It gave us a chance to have a few drinks with them and get to know each other better the Thursday night. I had also booked a tattoo appointment for myself at Collingwood Tattoo for Friday morning so all the ladies decided to ride over that way with Shelley and I. After not being able to get an appointment they headed towards Blue Mountain Caves while Shelley and I did our thing and enjoyed a quiet lunch afterwards. The night before we were also asked if we wanted to take part in the Ottawa ladies photoshoot on the beach with Sheryl from Forever Photography which we immediately jumped at! As you can tell Friday turned out to be anything but a chill day hanging out by the pool and waiting for others to arrive lol. However, I wouldn't have changed a thing!
Friday night saw lots of women reuniting that hadn't been together since last years Burrbilly Girls Weekend. The friendship and respect that these women showed each other were incredible. These women are true, genuine and just all around great people. I get teased a lot by non rider friends about being a biker bitch or motorcycle mama and I can honestly say that after this weekend I will wear it like a badge of honour. Say what you will but people on motorcycles have raised a lot of money for charity of the years and this gathering was no different. There was a charity attached (Camp Ooch)and we were happy once agin to help others.
Saturday morning was the big ride. Although I haven't seen any official numbers it was reported that there were approximately 300 women that rode in for the weekend festivities and just over 200 that participated in the official ride. I wasn't going to ride as I'm nervous doing large group rides. I still feel like I'm fairly new and the last thing I want is to feel like I have to ride beyond my ability. Well at the last minute we decided that we wanted to be a part of it. So Trish, Sheryl and I headed down to the Saga Motel where the ride was staging and starting out from. Riding into the staging area was an incredible feeling. To see so many women on bikes gathered in one place was just mind blowing. In the video below if you watch you can see bikes coming down the main street while we were still leaving the parking lot (apron 1:50), thankfully there were blockers at every intersection.
https://www.facebook.com/tracey.fraser.311/videos/10216892554926060/UzpfSTgwNzAwOTU1OTMzMDczNzoxOTE4MjQ4NTk0ODczNDg5/
At this moment my eyes may have leaked a little bit.
Sunday saw everyone getting up earlier than others (we had a rev'r leave our hotel at 6:30 am). As woman after woman left you could hear the good bye's echo out through the parking lot and the smiles on faces were easy to identify.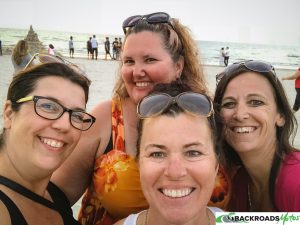 Shelley, Trish and Sheryl you made the weekend one to remember and I can't wait to do it again next year!
To top off the weekend on Sunday Shelley's husband and daughter and Andy all made their way to Wasaga Beach  to ride home with us. It was the perfect ending to a really great weekend!
SaveSave
SaveSave
SaveSave
SaveSave
SaveSave
I grew up in small town Ontario so of course there were a couple of motorcycles in the drive house. The only problem was that I didn't ride them I was only a passenger.
It wasn't until I met me husband, Andy, that I spent any real time on a bike. We had a bike (Yamaha XJ750) before the kids arrived. However, after the kids came along we just didn't have time to ride anymore so we sold it. There's nothing worse than a bike sitting around and not being ridden!
Fast forward twenty years and we were once again cruising around on two wheels. Almost five years later and the only thing that's changed is I now ride my own bike. If only I had understood how awesome it was to ride my own bike I would have done this years ago.
Cheers,
CL